If you live in Perth, there is no better time to go solar than today. There are plenty of benefits, including:
Perth is one of the sunniest cities in Australia.
Perth enjoys approximately 265 sunny (and a little bit of partly sunny days) throughout the year. Even during winter, the city rarely has a temperature that reaches below 10 degrees. Solar panels can stay busy 70% of the year.
Power bills are getting more expensive.
Since 2009, electricity costs have been steadily increasing in Western Australia. This year will not be an exception to the trend. Electricity tariffs started rising in 2017, prompting homes and businesses to pay 7% more on every billing cycle. Installing solar panels will help lower, if not eliminate, these regular expenses.
Rebates and the power buyback is available.
Purchasing solar panels earns you rebates known as Small Technology Certificates (STCs). They can assist towards the cost of your system. The value depends on the market, so they can rise and fall anytime.
STCs are quite difficult to understand for the consumer. It is why people turn to Easy Solar to take care of the rebate aspect of the sale.
One more reason why you should turn to solar is the 
Renewable Energy Buyback Scheme
. It pays residents or business owners for the units of electricity that the solar system produces that remain unused. Electricity retailers (
Synergy
 for Perth and Western Australia) purchase the energy you generated, which even gives you an opportunity to earn.
Solar Panels and Their Performance
Two types of modules exist namely crystalline and thin-film. Many opt for crystalline because the modules have a higher efficiency rating than the other type. Crystalline, which can either be poly or monocrystalline, are suited for rooftop installations.
The efficiency rating, which is expressed as a percentage, refers to the ability of the solar panels to convert sunlight to electric power. If you have two types of panels, the one with the higher rating will produce more electricity than the other.
Many consumers, as well as the professionals in the solar industry, view panel efficiency as the most significant criteria in determining the quality of the product. It is indeed important but it is not the only thing to consider. Here at Easy Solar, you never have to worry about the performance and efficiency of the panels as we only sell products that are of the highest standard.
There are several choices available for solar panels but Easy Solar offers Tier-1 solar panels only. Bloomberg New Energy Finance Corporation reveals the list every year. The brands may change in ranking but the top five to 10 usually remain the same.
With the help of our experience in the solar industry, we have come to know different products. It is why we have chosen to provide only the very best for our customers. The list of Tier 1 panels may differ every year but it is based on the following criteria:
The credibility, bankability, and longevity of the company
Worldwide sales
Production capacity
Quality of products
With a fully integrated manufacturing plant
Substantial in assets and turnover
Easy Solar Only Works With Tier-1 Panels
Since Tier-1 panels meet the requirements above, you can be sure that you will never buy an inferior product from Easy Solar. Here are our top recommendations:
Canadian Solar
Usually occupying the 1st and the 3rd spots on the Tier 1 list, Canadian Solar is one the most reputable companies around the globe. The efficiency rating is between 15.88% and 18.33% with a maximum warranty of 10 years for the materials.
Jinko
This company is the biggest Chinese manufacturer in terms of volume production. The choices are varied and more importantly, they are cost-effective. The efficiency rating is between 15.57% and 18.57% with a warranty of 10 years as well.
GCL
With high-rated panels, thanks to their build quality, GCL is one of the manufacturers with the most affordable products. The efficiency rating is from 16 to 17% with a warranty of 10 years.
ET Solar
The company has been around for more than a decade with longer warranties than other top names out there. Get 25 years for performance warranty and 10 years for the product. Efficiency is from 15.37 to 17.52%.
LONGi
One of the highest in efficiency ratings, LONGi reaches 18.7%. Product warranty is up to 10 years.
If you do not know which brand and product to go for, Easy Solar has a sliding scale that lets you choose based on your budget.
Best Qualities
The M660300WB from ET comes with high-conversion efficiency. The panels bear anti-reflective coating to help reduce maintenance and operation costs. These panels from the world-renowned brand offers 0 to +5W positive tolerance and hard-to-beat loading capability. It is no wonder this product is trusted in Australia.
Efficiency Rating: 18.44%
Warranty 35 years:
25 years for performance
10 years for materials and workmanship
Best Qualities
The CS6U-345 from Canadian Solar is a high-quality solar product designed for high-voltage systems. The 72 mono cells have an efficiency rating of up to 20%. The product has an outstanding performance when it comes to low irradiance and a high PTC rating of over 91%.
Efficiency Rating: 17.74%
Warranty 35 years:
25 years for linear power output
10 years for product, materials, and workmanship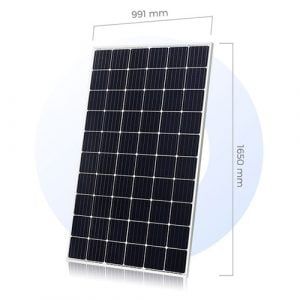 Best Qualities
This monocrystalline cell solar panel uses Passivated Emitter and Rear Cell (PERC) technology for increased efficiency. It works with its lower resistance against electrons, which are the source of power. At the same time, it increases reflectiveness back to the cells of the panels.
Efficiency Rating: 17.4 to 18.7%
Warranty 35 years:
25 years for linear power output
10 years for materials and processing
Best Qualities
This panel from the tier-1 brand Q CELLS features Q.ANTUM technology, which boasts higher yield for every surface area than many other products. It offers low BOS costs while giving optimal yields, even in low light conditions. The product also offers long-term security with its anti-LID and PID technology.
Efficiency Rating: 18.90%
Warranty 37 years:
25 years for linear performance
12 years for product
Why Choose Easy Solar for Your Home or Business in Perth
Easy Solar is committed to ensuring the highest standard of customer service for our clients. Our goal is to gain repeat clients and referrals from them. With a combined experience of 30+ years, we know which products are the best for you. We not only have excellent products but we are confident with our service as well.
Unlike other businesses, we provide ongoing service in case of problems with the installation or the products themselves. While sales are important, we focus more on the satisfaction of our customers.
If a problem occurs, you only have to call Easy Solar for a solution. We can tend to the issue even if you did not purchase it from us.
Get in contact with us, we would love to hear from you!